Product description
Rotary Vacuum Paddle Dryer Working Principle
Slurry / Wet cake is charged through the charging door while keeping a rotation of the agitator on. The vacuum is then applied to the Dryer along with Dust Catcher (mounted on the Dryer) Condenser and Receiver. The heating medium is passed through the jacket and Agitator. Vigorous evaporation of moisture takes place under a vacuum.
The vapor passes through the Bag Filters of the Dust Catcher, goes into the Condenser and the Condensate is collected in the receiver. Evaporation under high vacuum and low-temperature results in faster recovery of maximum solvents. Adequate provision has been provided to cater for fluctuations in steam pressure/temperature, in Condenser cooling water temperature, moisture content of the feed, etc.
The dry product is discharged via the discharge valve by reversing the Agitator rotational direction to the "Discharge" direction.
Vacuum Paddle Dryer Advantages

Ideal for Temperature-sensitive materials.
Improve product quality due to low-temperature drying system
Almost 100 percent recovery of solvents.
Low energy consumption
Rotary Vacuum Dryer Operation Conditions

Vacuum: Up to even 0.6 torr
Heating Temperature: 20° to 300°C
Industrial Rotary Vacuum Paddle Dryer Capacity

Gross Capacity: From 100 Ltrs. To 25000 Ltrs.
Charging Capacity: 40 to 60% of Gross Capacity depending on the nature of the products.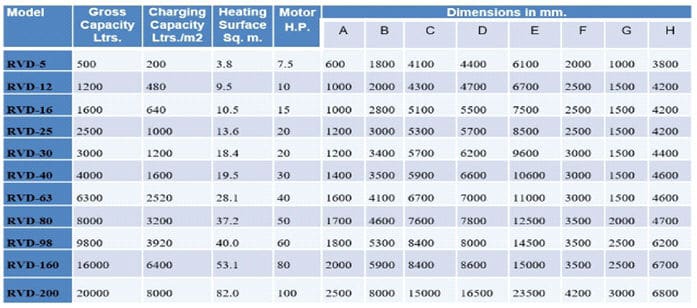 We Are the Leading manufacturer and Exporter of RVPD Dryer in Ahmedabad, Gujarat, India