Product description
Industrial Vacuum Tray Dryer

A Vacuum Tray Dryer is widely used in the pharmaceutical, chemical and food industries to dry materials that are oxidizable, heat sensitive and hygroscopic in nature. Condenser, heat exchanger and vacuum pump are primary accessories for working of vacuum tray dryer.
Vacuum Dryer working Principal Features

Internal and external both chambers of these Vacuum Tray Dryers are made of high grades stainless steel, with a choice of customer we use / SS 304 / SS 316 / SS 316L Stainless Steel.
Doors made of MS / SS 304 / 316 / 316L With thick Layer interlock & glass wool insulation.
The bottoms of both heating plates and trays should be as smooth as possible to permit optimal heat transfer between plates and product & minimizing heat loss.
The medium flowing through the heating plates is water, steam or thermal oil.
The distance between the heating plates is determined primarily by the surface loading and the foaming of the product.
To avoid retrograde condensation the cabinet walls are indirectly preheated by the heating plates. The product is introduced and heated at atmospheric pressure, only after all individual product trays reach the same temperature the cabinet is evacuated and drying can start.
The preheating phase is very important in order that the drying curve and the foaming of the product is identical throughout the cabinet.
During the main drying phase, the vacuum is in the range of 40 to 80 mbar abs and in the final drying phase vacuums of only few mbar abs are reached.
Heating temperatures are normally in the range between 80C and 110C. Depending on product and surface load, drying takes from a few hours to 1 to 2 days.
For some products, the vacuum and temperature profiles are automatically controlled in order to prevent a pass over of the critical product temperature.
Vapours produced during drying are taken out directly, or via a steam jet compressor to a surface condenser in which the vapours condensate. The non-condensable vapours are extracted by the vacuum system.
On completion of the drying, the product can be cooled by circulating of cooling water through the heating plates.
Commercial  Vacuum Tray Dryer Advantages

Especially Designed Locking System is Provided Easy Tighten of the Door.
Vacuum and Temperature Gauges are provided.
View Glass is provided on the Receiver to see Condenser Level.
Limit Switch, Pressure release valve, Vacuum brake valve, PID Controller is also provided.
Vacuum Tray Drying Parts

Suitable Size Condenser & Receiver in SS 316/304 to Condensate Collection.
Circulation pump with FLP Motors and controls
Vacuum Pump (2stage water ring) consisting of FLP motor
PLC controller
Nitrogen purging valve
Validation ports w/ sensors
IQ / OQ / DQ / PQ Certifications
Vacuum Tray Dryer Capacity and Specification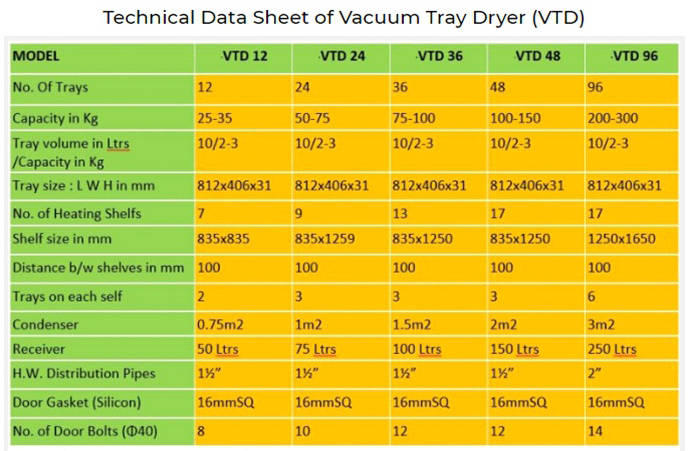 We Are the Leading manufacturer and Exporter of Vacuum Tray Dryers in Ahmedabad, Gujarat, India